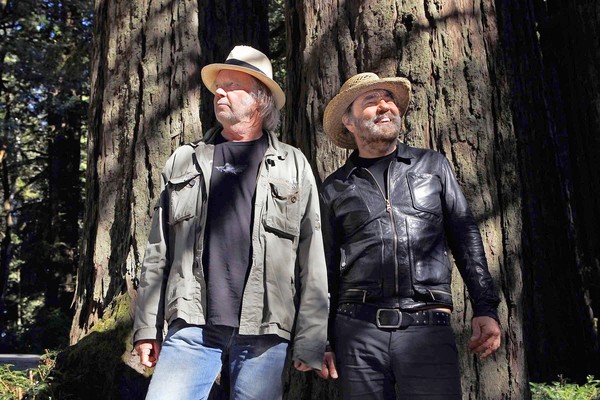 L'inquiet i incombustible Neil Young, amb 64 anys, demostra com l'inconformisme i l'exigència personal són motors vitals per qualsevol ésser humà que aspiri a quelcom més que passar per la vida de forma passiva. L'autor d' 0bres mestres com Everybody Knows this is Nowhere, After the Gold Rush, Zuma, Rust Never Sleeps, Freedom i Prairie Wind s'ha aliat amb Daniel Lanois per construir Le Noise, juntament amb l'enginyer de so Mark Howard. Lanois i Young, a la seva manera, són dos músics incansables en la buúsqueda i captura de noves textures i sonoritats; s'han trobat i com no podia ser d'una altra manera, han aconseguit el que s'havien proposat: donar un salt endavant en el so ja demolidor per sí de Neil Young, en un disc carregat de guitarres tant acústiques com elèctriques.
Daniel Lanois ha transformat la seva mansió de Los Àngeles, convertint-la en un macroestudi on algú com Neil Young ha trobat l'ambient idoni per dur a terme el seu nou treball. Le Noise està format per vuit temes interpretats per un Neil Young més introspectiu i menys polític que ens ens anteriors Living with War i Fork in the Road. Guitarra, veu i Lanois en la producció, res més, en un àlbum que des del primer acord de la inicial Walk with Me posa de manifest les intencions del músic canadenc. Quan un artista té entre cella i cella el seu treball, sempre és un bon principi. I quan el nom de l'artista en qüestió respon al nom de Neil Young, respectat per tot aquell que entengui la música com una expressió artística passional, segurament la nova proposta, com la que ens ocupa, valdrà i molt la pena.

Temes com Love and War, Angry World i Peaceful Valley Boulevard demostren el bon estat de forma d'un Neil Young que va reventar el Primavera Sound del 2009 amb una demostració abrumadora de ràbia, força i talent.
[youtube=http://www.youtube.com/watch?v=cCIPRF0-YjI]